We tried to take a group photo with some of our favorite people…
they had other ideas.
WE'RE DOG PEOPLE
We're all about dogs. We are dog owners ourselves. We love our dogs, your dogs, all dogs! 
WE'RE ABOUT TRUST
We wanted a place we felt confident we could trust with our best friends, so we made one.
WE'RE FUN TOO!
We provide a fun, safe and stimulating environment for your dog. A place you'll see them excited to come to.
City Dogs was begun with the goal in mind of providing dog owners with a safe, loving, vacation and recreational experience for their canine companions. Since opening in July 2013, we have seen hundreds of dogs walk through our doors, many of whom we have developed deep and connected relationships with. We hope to continue fostering old and new friendships with our doggie and our human customers, far into the future.
To those who entrust us with the care of their pets, we promise to always strive to provide:
Peace of mind
Outstanding professional, and courteous service
Integrity and excellence in all we do
Unconditional love and care for all clients
Reliability, cleanliness, and safety
City Dogs will always "pay it forward" by having a positive presence in our community. In allocating a percentage of our space to the housing, care, and socialization of foster rescue dogs, we can do our small part to alleviate some of the unnecessary life-ending measures that these dogs would have otherwise faced.
Our greatest joy is seeing pet owners feel good about having us care for their 4-legged family members. The services we provide go far beyond just taking care of animals. It involves developing a meaningful, purpose-filled relationships with each and every one of them; relationships that will grow and flourish through many years. Nothing makes us happier than to hear a pet owner say; "When my dog knows he's going to City Dogs, he/she gets so excited!!" Or to see the face of one of our rescue foster dogs walk out the door, on his/her way to their forever home. That, to us, is true success!!
After five years in business, we moved to a new 11,800 sq ft facility with multiple indoor and outdoor play areas, more kennels and luxury dog suites! We now employ between 9 and 14 boarding and playcare attendants (depending on the season and need) plus our leadership staff to be on hand caring for your pets. We're very excited about our growth, but we keep our eye on the (er, dog?) ball and continue to promote canine education, canine charity work and lov'in the dogs.
City Dogs will be celebrating it's 6 year anniversary in July 2019.  Follow us on Facebook for how we're going to celebrate!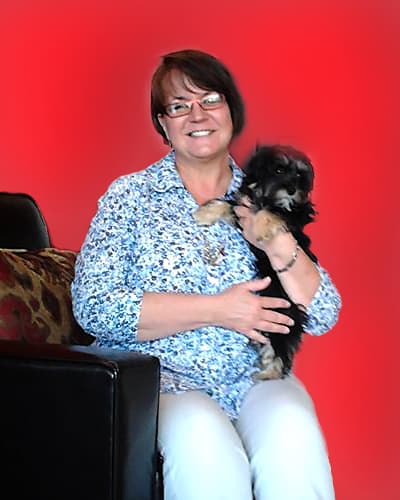 My name is Lynda Knezovich and it is my honor and privilege to provide the best dog boarding and daycare for your dog.
I grew up with dogs. Of course, back in the 60's (I'm dating myself) dogs were kept outside and not in the house. As a kid, I never understood why my dog had to have his own house, and couldn't live with me!
As an adult, I have always had pets… dogs, cats, and even rats… to say I love dogs would be an understatement.
I worked in the corporate world for many years.  When my daughter was born in 1993,  I decided I wanted to spend more time at home. I quit the 9 to 5 and took a part time job in a veterinarian's office as a receptionist, eventually transitioning to vet-assistant. I learned so much about dogs in that position.
When we moved to Pittsburgh, my husband and I managed a boarding kennel for a doctor who owned and bred Bull Terriers. I learned a lot from her about dog breeding and, also, about the business side of pet care.
After we moved back to my hometown of Roanoke in 1996, I dreamed of opening a place of my own… a place where I'd want to leave my own dogs. I just didn't have the money to begin. In February 2013 my mother passed away and left me a small death benefit. Without a second thought, I took that money and opened City Dogs in July 2013.
I think my mom would be proud.
Bee Colson
Assistant Operations Manager, Foster and Transportation Coordinator
Bee Colson has been a member of the City Dogs team since 2016. She speaks "dog" better than anyone we know!
She has many interests, but her first passion is working with animals. Over the years, she has volunteered and worked for many rescue and shelter organizations. She is the proud momma of three fur babies: Beefy, Nick, and Baby G. At any given time, she can also be found fostering one or more pups in need.
She loves your pups like her own and is always excited to meet new visitors. Bee works the morning shift and is usually the one checking your dogs in for playcare. If she seems more excited to see your dog than she is to see you… well… try not to fault her!
Fun Facts: Bee is an accomplished cook and you can sometimes find her cooking up feel good food at one of the local food trucks. She is also a certified massage therapist!