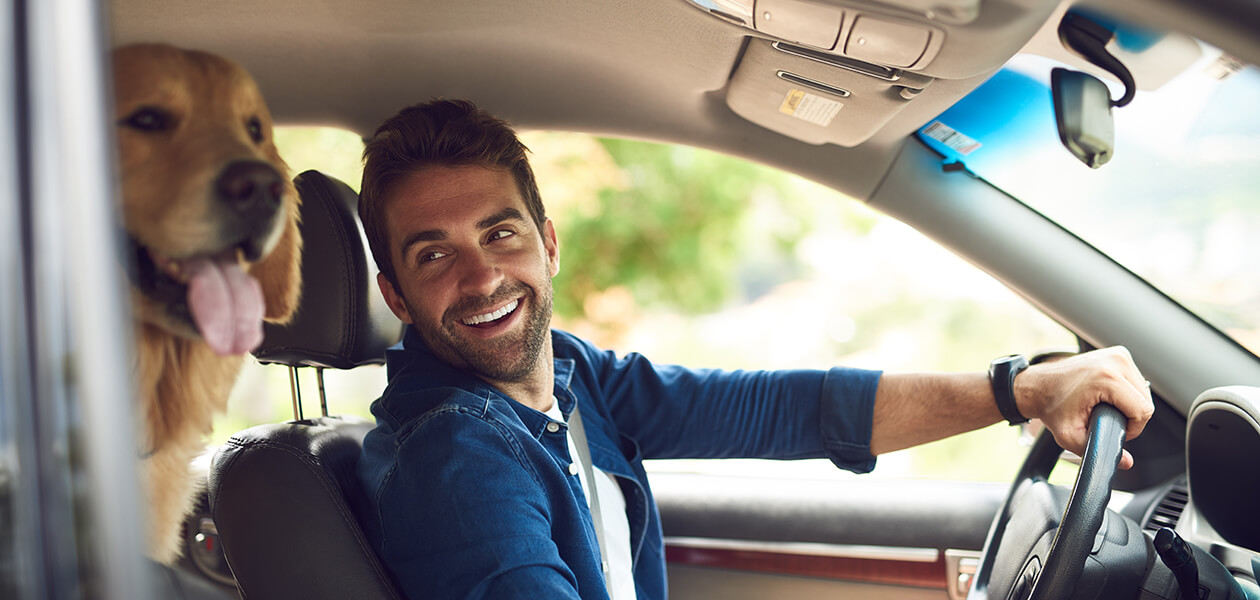 NEED BOARDING?
WE'VE GOT THE IDEAL DOGGIE STAYCATION
YOU'VE FOUND IT!
At City Dogs, we handle all the details. We happily include full access each day to our group Playcare for fun off leash play during the day (for qualifying pups), up to three meal times each day, administration / application of medicine as needed, and of course, plenty of added hugs, scratches, pets and love from our staff – all for no extra charge!  You can even request a pre-pickup full service bath.  Just ask.
Rest easy that your pup will never be unsupervised on a City Dogs playground. We do more than just "watch" the dogs all day, we're right there supervising and interacting with them!
Meal times and medication requirements have our special attention.  We care for many dogs with special dietary or medical needs. We adhere to our customers instructions for naps, feeding, and medications. Only treats sent from home are allowed unless we have special permission to offer our in-house, all-natural goodies.
In our climate controlled boarding facility, we have different sized rooms to accommodate all kinds of dogs and more than one dog per room comfortably.  Even our smallest rooms are a spacious 6′ wide! We also have our luxury suites, complete with large Kuranda suite beds, wall mounted flat screen TV (a central DVD player features only the best in canine cinema!), and pillows / linens as allowed for the discriminating canine customer. Take our virtual tour to explore our rooms.
We also have no set checkout time. That means, if your dog arrives at 7 am on Friday and checks out at 5 pm on Saturday, you pay for only the one night.  And whether you book our standard kennels or our luxury suites, your pup would receive both days of playcare at no extra charge.  They can conceivably enjoy up to two full, fun days of our exercise, play time and social program with every night of boarding!
City Dogs is proud to be one of the only kennels in the area to have a fire alert system installed in our facility. In the unlikely event of a fire, the Roanoke City fire department would automatically and immediately be notified and the upper floor sprinkler system would be activated. This gives us peace of mind and hope it helps all our doggy parents relax, knowing their babies are safe.
MORE QUESTIONS?
We have some boarding FAQs here.  If we've missed anything you need to know, please talk to us.
RESERVATIONS?
Reservations and up-to-date vaccination records for each of your pups are required for boarding. We are often full, with a waiting list, especially around holidays and peak travel times. Please plan ahead. We do post on Twitter and Facebook when we become full so follow us there for important updates.
BOARDING PRICES
STANDARD ROOM
1 dog $35 / night 
2 dogs $53 / night
3 dogs $70 / night
Want to save more? Buy a boarding package! Use only the number of nights you need per reservation.
1 dog $330 / 10 night package
2 dogs $495 / 10 night package
3 dogs $660 / 10 night package
Long trip? We give you even more savings for 10 or more consecutive nights.
1 dog $32 / night
2 dogs $48 / night
3 dogs $64 / night
SUITES
This includes two 15 minute, one on one, concierge services (morning and evening). Your choice of – a City Walk, playtime or cuddle time with a staff member. We can play ball, throw a frisbee, brush your pup or give them a homemade frozen 'doggie ice cream' treat (made from yogurt, bananas and peanut butter).
We do not offer package rates on our suites. 
Don't want to pack food? Oops forgot? Our quality dog food may be purchased for  $1 / cup.
PREPARING TO BOARD YOUR DOG
We request that your dog bring their own food so as not to cause tummy upset or diarrhea. This is especially important if your dog is on a special diet or has food allergies.  We have a refrigerator to store any wet food. There is no need to individually bag meals as long as you provide us with detailed feeding instructions at check in.  In the event that you do not bring food, we have high quality, Diamond Naturals food for $1 per cup. This can be paid at pick up. 
There is no charge for administering medications. At check-in, let us know your pup is on medication and make sure we have instructions. To help with pills, we keep peanut butter, hot dogs and cheese on hand. Please let us know what method works best for you.
You certainly don't need to pack everything! But we suggest you do what's best for your dog and your own peace of mind. We do provide blankets in every run, but some people prefer for their dogs to have the familiarity of their own bedding and toys. Some dogs, especially if they are not used to being in a boarding situation, will damage or chew their bedding and/or toys. Please understand that this is beyond our control. Please don't bring anything of high value as it may not stay that way! Also, let us know if your dog has been known to "eat" soft things, like socks or underwear. This may mean they would be likely to chew and swallow a blanket or bedding. We want to prevent that from happening!
If you forget to bring some treats we have those on hand, including grain / gluten free varieties. Please do not bring rawhide chews. We do not allow dogs to have rawhide due to the choking hazard.
WHAT TO BRING
The following items may be brought in any container you find convenient.  It is helpful if you label your container. Many of our customers use masking or painter's tape with their dog's name on it.
NO BOWLS or breakable items please! We provide all meals & water in stainless steel bowls.
PLEASE REMEMBER !
Your dog's normal food (wet and / or dry, whatever they generally eat) OR notify us that you will be purchasing our quality kennel food. You do not need to package food for individual meals.
Any medications your dog requires
Written instructions concerning what  your dog eats and (as applicable) when and how medication is to be administered. Typing these out helps tremendously and the more detail the better!
OPTIONAL
WHAT TO EXPECT WHEN YOU'RE BOARDING
We have a leash rack in our reception area and you may leave your leash there or we can place it in your dog's bin with their food and other items..  You may notice us removing your dog's collar upon entry. We are a 'play naked' facility for the safety of your pet (if you are not familiar with this, please read up on the Naked Dog Project). Playing with collars on can be dangerous. A tooth or nail can get stuck in any collar resulting in injury or strangulation. We will store the collar and return it upon checkout.
After breakfast in the morning, your qualified dog(s) will join one of our play groups during the day. In the evening, dogs boarding with us return to their rooms and suites for dinner and a night time wind down.
All dogs are fed privately, in their own rooms.  We do not offer any food or treats in the open play areas as this could create conflict among the dogs.  Dogs have water available at all times, 24 hours a day.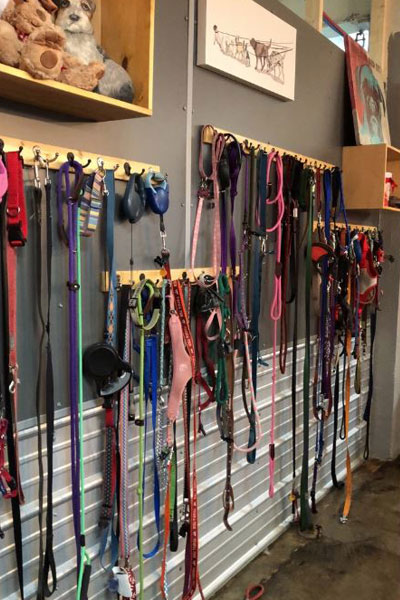 OUR NORMAL DAILY SCHEDULE
Boarding dogs are escorted, as a group, to our spacious 7000 sq ft outdoor play area.
Depending on the weather, groups of dogs are rotated in and outside all during the day to make sure everyone has lots of outside play time. We limit outdoor time when it is raining or when the temperature exceeds 85 degrees or is below 40 degrees.
Dogs who eat 3 meals a day are fed lunch.
Quiet time. This is the time, during the week, when we are closed to the public and allow the dogs to nap at will.  It is surprising how good they are at self-regulating.
We play outside, one more time, before the Playcare dogs begin to be picked up.
Playcare dogs play inside as they wait to be called to go home.
Dogs who are boarding are fed dinner.
Dogs who are boarding are taken outside one last time before bed.
Our weekend and holiday schedules are similar, with fewer Playcare dogs.
The majority of our standard rooms are a spacious 6′ X 6′ in size (larger than you'll find in many boarding facilities). We have four larger standard rooms that are an even more spacious 6′ X 9′.
Our staff determines who sleeps where in the these rooms; depending on the size, temperament, and number of dogs boarding together.
We now have Kuranda beds available in all rooms for our boarding dogs. These are the gold standard in kennel beds as they are comfy, chew proof and virtually indestructible! We have a few pups that visit with us who can't have blanket bedding so these are especially perfect for them.
There are few pet products that we recommend, but Kuranda beds are one of them. If you find you love these beds as much as we do, you can purchase one for your home thru the banner ad below.
Our suites are a truly special boarding experience for our discriminating canine customers.  These suites all include the large, 36″x50″ Kuranda suite beds, a wall mounted flat screen TV (where we play only the finest in canine cinema), owner-accessible webcams and pillows / linens as allowed.  But each suite is completely unique with it's own special canine themed decor so you will, of course, want to reserve specific suites.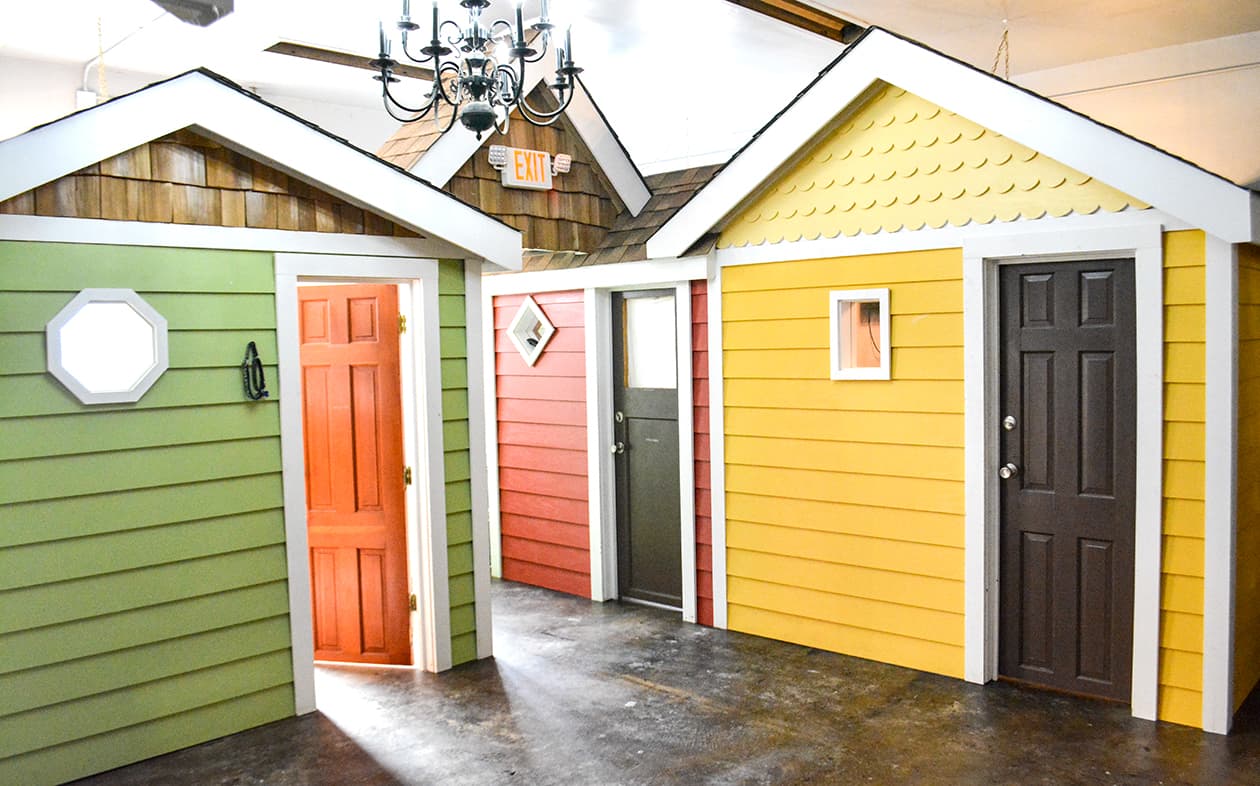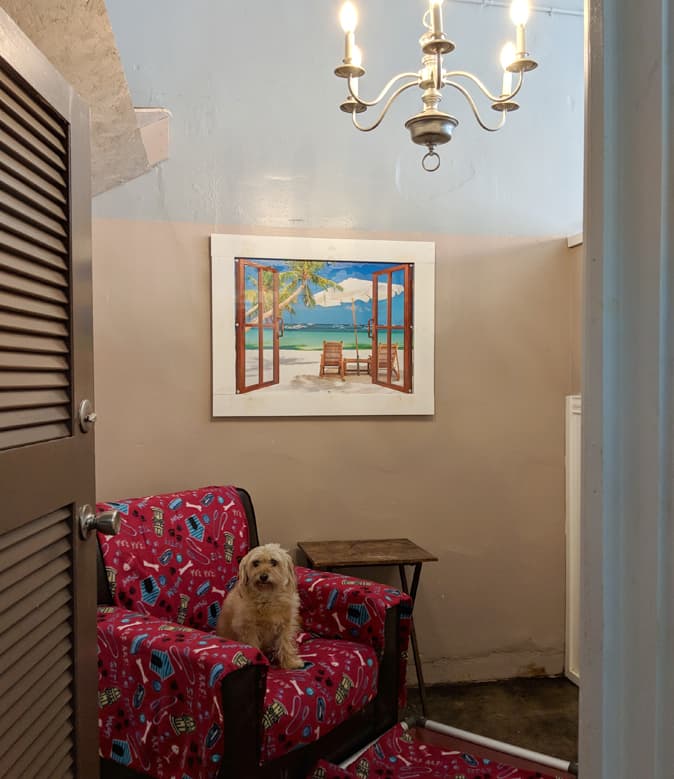 BEACH SUITE
The beach suite has a lovely blue exterior, channeling it's 'ocean front' appeal.  It's roomy 8'x8′ interior space with white beadboard interior, faux ocean window views and real window interior views is perfect for that special canine beach getaway.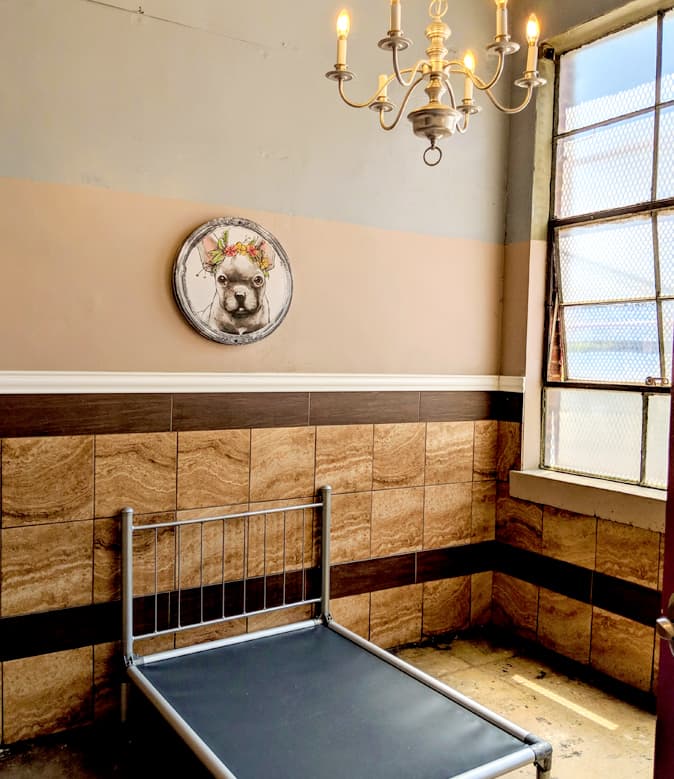 TOWNHOUSE SUITE
Our Townhouse Suite's striking purple exterior has that urban appeal your pup(s) are looking for.  It's extra large 10'x10′ interior has fashionable ceramic tile walls, large sunny exterior windows and even canine family portraits on the walls! It's perfect for that larger doggie family stay.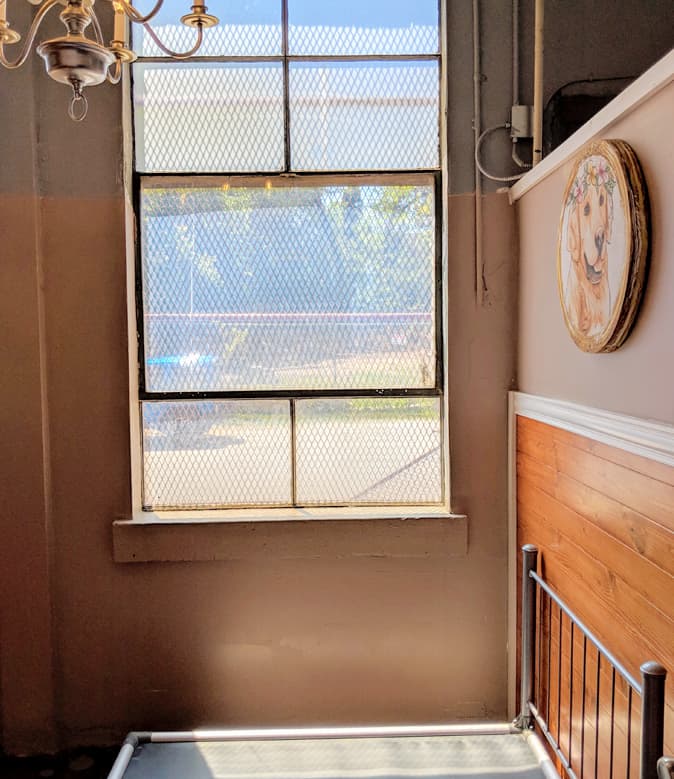 CRAFTSMAN SUITE
Our warm Craftsman Suite has a stylish green exterior.  It's gracious 8'x8′ interior includes wood stained (and polyurethaned for cleaning!) beadboard walls, large sunny exterior windows and canine family portraits decorating the walls. It feels just like home, welcoming any of our furry guests to a comfortable stay!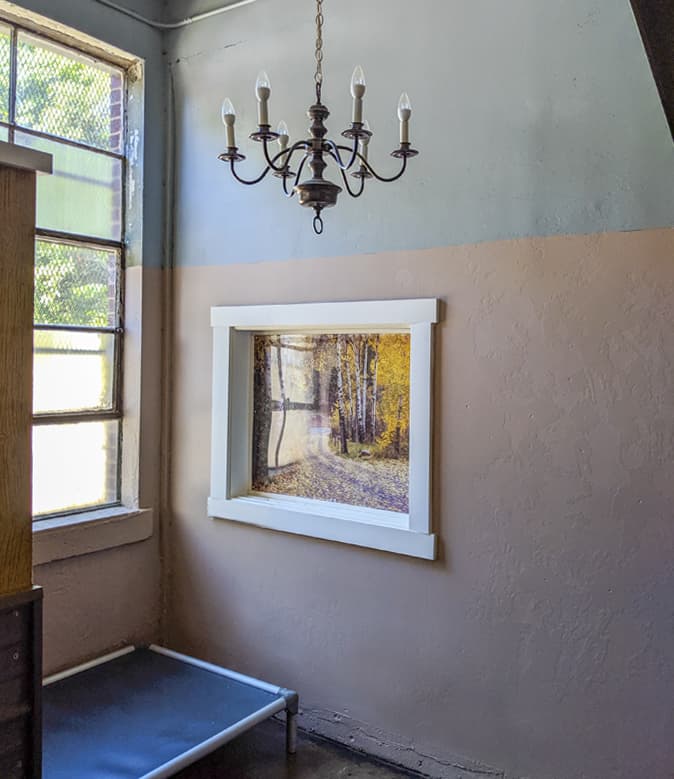 CABIN SUITE
The Cabin Suite's cheerful red exterior welcomes our canine guests to a pleasant 7'x10′ space decorated with rustic wood and metal. The large sunny exterior window makes the space airy and the faux forest view window appeals to the the 'call of the wild" in all our furry guests!  No doubt this will be their favorite suite in no time.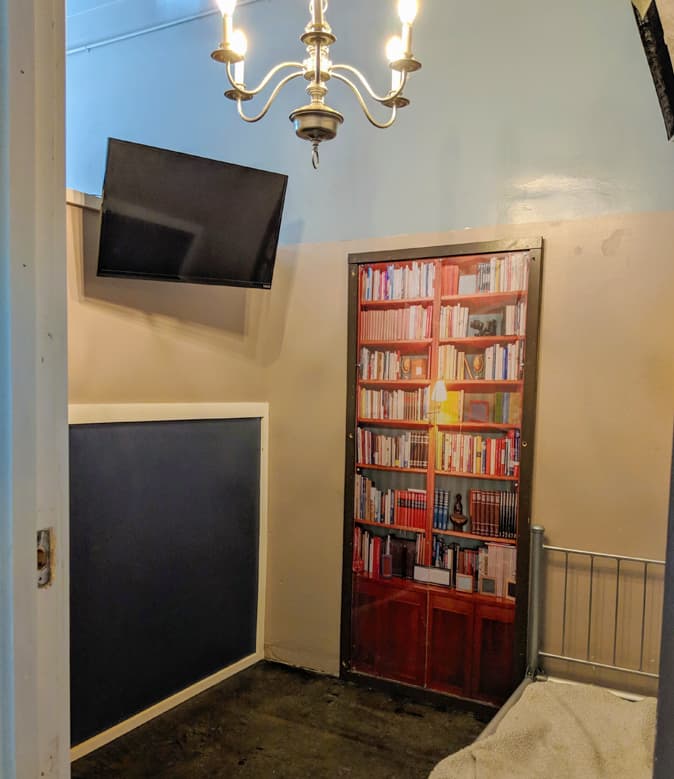 FARMHOUSE SUITE
Our homey Farmhouse Suite's bright yellow exterior welcomes our furry guests to a spacious 8'x8′ space with blue Formica walls, faux bookcase of books and a pleasant interior window.  Any of our canine guests will be right at home in this cheery suite!